Open the Inspections tab and swipe until you see the list of scheduled inspections.
To start an inspection, click anywhere in the info block of the corresponding inspection. You will then see a confirmation request.
The time you started the inspection will be displayed in the report. Therefore, you should not start an inspection unless you are going to fill it right away.
If geolocation verification is enabled for your department, you will see the geolocation screen.
Make sure that the system shows your current location correctly and click Start inspection.
You will see a warning if your location doesn't match the store address.
Click on one of the processes. You will then see a list of questions. Answer them and attach photos/voice records if it is required. You can also create a task if any problem occurred during the inspection.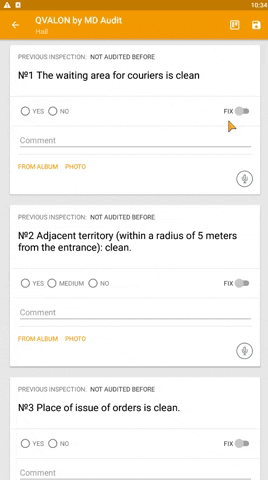 When you answered all questions in one process, click Save and follow and you will be directed to questions of the next process. Once all questions of the inspection were answered, click Send to end the inspection and send the results.